5 Process Automation Application Examples
Business process automation is the ideal way to ensure that your business is not standing still, whilst also bringing a whole host of benefits, such as efficiency gains, increases in productivity and cost reductions.
"If it's not broken don't fix it!" We've all heard it before, however, taking that approach to running a successful business will only ensure one thing – standing still. If your business is standing still; you're allowing your competitors to gain momentum and steal market-share and customers. The time is right to consider business process automation.
So, how can you ensure that you're moving forwards? I'm sure that any business owner or manager can identify a business process that needs improving, as no business is perfect, but more often than not the willingness to digitise and automate processes is met with fear or rejection. Business process automation is the ideal way to ensure that your business is not standing still, whilst also bringing a whole host of benefits, such as efficiency gains, increases in productivity and cost reductions.
Low-Code development tools like PhixFlow represent an ideal way to start process automation within your business, with fast results too. To give you some inspiration on the types of applications that can be created to automate processes in your business, we have five great examples for you.
Project Planning
Take, for example, the end-to-end processes involved in projects. Many companies will rely on a shared spreadsheet to gather information from various team leaders and continue to use this spreadsheet to track the progress of the project. In this scenario it's likely that the team leaders also have their own spreadsheets, specific to their own department. This can lead to inaccurate data, especially if an update to a departmental spreadsheet isn't then entered onto the main project spreadsheet. Time is also wasted with team members having to manually enter data into two spreadsheets.
A solution to this would a project management application, built using a Low-Code development platform, with screens for each department to track and allocate tasks. These tasks, along with key data, can then be fed into a master project tracker. If any delays or issues occur with an individual task the application will automatically notify team members with tasks that may be affected. This allows managers and users to amend forecasts or allocate resources to different projects whilst the issue is investigated or resolved.
Free Guide

Download our free guide to learn the top 5 digital transformation trends for 2021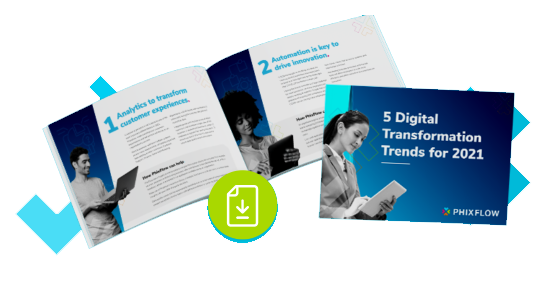 Approval Processes
Utilities, manufacturing and construction companies often rely on CAD system drawings which need to go through approval, often involving several departments examining details and bills of material, before sign-off. With many departments involved it is vitally important to keep track of the status of each approval, all of which can be automated using an application developed using Low-Code.
Tasks will automatically be assigned to various departments and, once signed off, the procurement team will be assigned the task to purchase any items required. Once the procurement process is complete and delivery dates are confirmed the production schedule can automatically be updated and reviewed by the manufacturing department.
Build Tracker
Construction companies will often utilise many sub-contractors and third parties to assist in projects. Keeping track of the work that these suppliers have been tasked with can be extremely complicated, especially on larger build projects. Many tasks are dependent on the completion of other tasks and scheduling can become a nightmare, especially when relying upon standard office tools like Excel spreadsheets and Outlook.
By utilising a Low-Code application development platform you can rapidly implement a build tracking application that allows external contractors to enter and view scheduling information, progress updates and issues for tasks that have been assigned to them. When any amendments and status updates are entered the application will automatically calculate the effect on the overall project, re-scheduling tasks as needed. Notifications will be sent to parties with any changes to the schedule, helping to avoid suppliers turning up on site and not being able to work.
Read our blog article for more information on why spreadsheets aren't always the best option.
Opportunity Tracking
Managers of sales teams currently spend a great deal of time on communicating with their employees to get feedback on the status of current sales opportunities. Lengthy phone calls and sales meetings can lead to a to a lack of visibility and communication between other members of the team. Larger organisations may use Customer Relationship Management systems, but smaller companies may not have the budgets to invest in these systems and rely on standard office tools to track the status of any deals.
Low-Code application platforms, such as PhixFlow, enables businesses to rapidly create their own CRM systems, customised to their exact needs. This customised system can automatically schedule follow-up calls, meetings and create weekly management reports, leaving key personnel time to concentrate on ensuring customer expectations and sales targets are met. With all opportunity records stored in one place and different user permission levels, managers will have access to the latest status of any engagements, whilst sales team members can access and update information, on the move via their mobile devices.
Supplier Management
With many businesses aiming to make their supply chain as lean and efficient as possible, it is imperative to be able to track and analyse supplier performance. Ensuring and maintaining strong relationships with your most reliable suppliers will result in fewer delays and potential cost saving.
With your supplier information automatically tracked in one system, your procurement teams can be assured that they are ordering from the most relevant, reliable and cost-effective suppliers.
Summary
Whilst there are many solutions available that enable manual tasks to be automated, many of them will be concerned with just individual tasks. Whist that does bring benefits and time saving, it doesn't consider the whole business process spanning multiple departments.
Low-Code development platforms, like PhixFlow, allow end-to-end business process automation, pulling in data from multiple systems and data sources. If you would like to benefit from automation in your business, take a look at our Rapid Application Development Programme, specifically designed to get you up and running with scalable solutions in no time.
Alternatively, why not book an introductory call with a member of our team, who can discuss the best solution to meet with your specific requirements.