Design and create Low-Code solutions to fit your processes
.
With PhixFlow you there's no need to twist your business processes to fit an off-the-shelf solution. Build your Low-Code solutions with the PhixFlow Low-Code platform.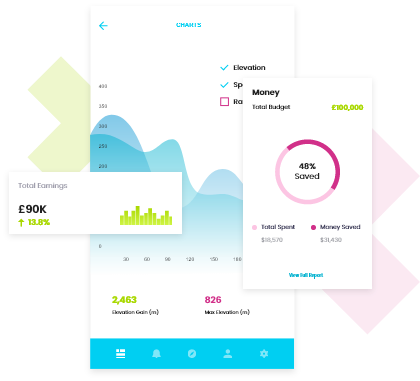 The only limit is your imagination
.
No matter whether you want to build an application that streamlines business processes, improves data quality or connects with other systems, the possibilities are endless with the PhixFlow Low-Code platform. Create and deploy the applications that deliver real impact to your business users, suppliers and customers.
Get exactly what you need
.
By giving you the power to design custom forms, menus & data processing, all integrated with your IT systems, your applications fit your processes exactly.
Rapid Delivery
.
The PhixFlow platform handles all the techy stuff. You just need to design the business logic using graphical modelling and spreadsheet–­like expressions.
Expert team
.
Our data and process experts are on hand to help. Getting you started with the first models and training you to build your own.
What solution will you create
?
With PhixFlow the possibilities are endless, all that's needed is a little imagination. Let us show you a few example use cases to get you started.
Build your mobile applications
.
PhixFlow changes the model of how mobile applications are created. Configure using drag-and-drop form design with menus, workflows and data processing, all integrated with your legacy systems, the same applications can be published as native smartphone apps.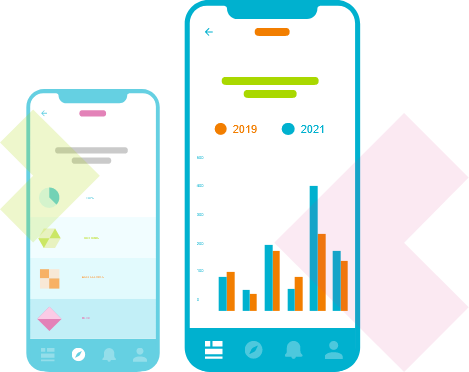 Process automation
.
Business productivity is increased through the rapid delivery of Applications matching the exact business need. Process Automation, with consistent workflows underpinned by managed permissions and full audit trails, deliver cost savings and consistent behaviour. The result? Happier customers, brighter teams and faster growth.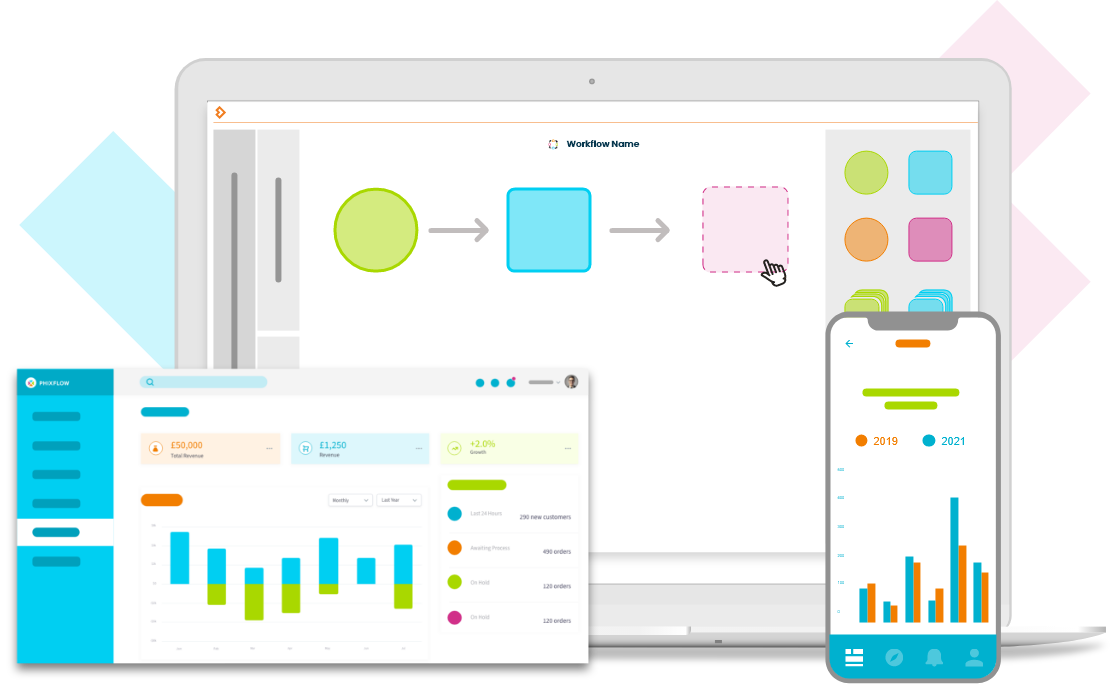 Create innovative Low-Code solutions for your industry
.
Create innovative software solutions that work for your business.
Telecommunications
.
Create applications that support operations, partners and customers in a unique, ever evolving business landscape.
Energy & utilities
.
PhixFlow makes it easy to create the solutions you need, especially when dealing with large amounts of transactional data and mobile teams.
Financial services and insurance
.
Operational efficiencies and regulatory compliance are placing ever greater strain on legacy systems.
How we help our customers
.
Low-Code order tracking for Tesco
At Tesco Direct, PhixFlow proved its versatility in supporting any business function. Used in areas as diverse as complete online order tracking; customer care decision support for order replacement; and test automation of the Tesco Direct website.
Going Beyond Standard Bank Reconciliation
The Post Office reviewed bank reconciliation software but found nothing that matched their processes. PhixFlow was chosen because the bank and A/R feeds could just be configured, processing logic was graphically modelled and user screens were designed by their staff.
Contract management application for Centrica
PhixFlow replaced and automated a manual process to transfer contract information from Centrica's offer managment system through to their billing system. The configured application provided an ongoing 80% reduction in billing errors and a 40% FTE saving.
More from the PhixFlow blog
.
Improve data quality in your business
With more data being collected and analysed, the room for error is growing. With this analysis so heavily relied upon, errors can be extremely costly. Explore the most common data quality problems and how they can be resolved.
Low-Code: IT's new strategic asset in digital transformation
How can low-code platforms can help with the work burden and become IT's new strategic asset in achieving digital transformation objectives.
Speed up new application Development
How to rapidly develop and deploy new applications to meet with you organisation's digital transformation strategies using Low-Code.