Create business applications
faster

with

Low-Code

application development

.

Change the way you create software applications for your business with PhixFlow, the Low-Code platform that opens up application development to your entire team.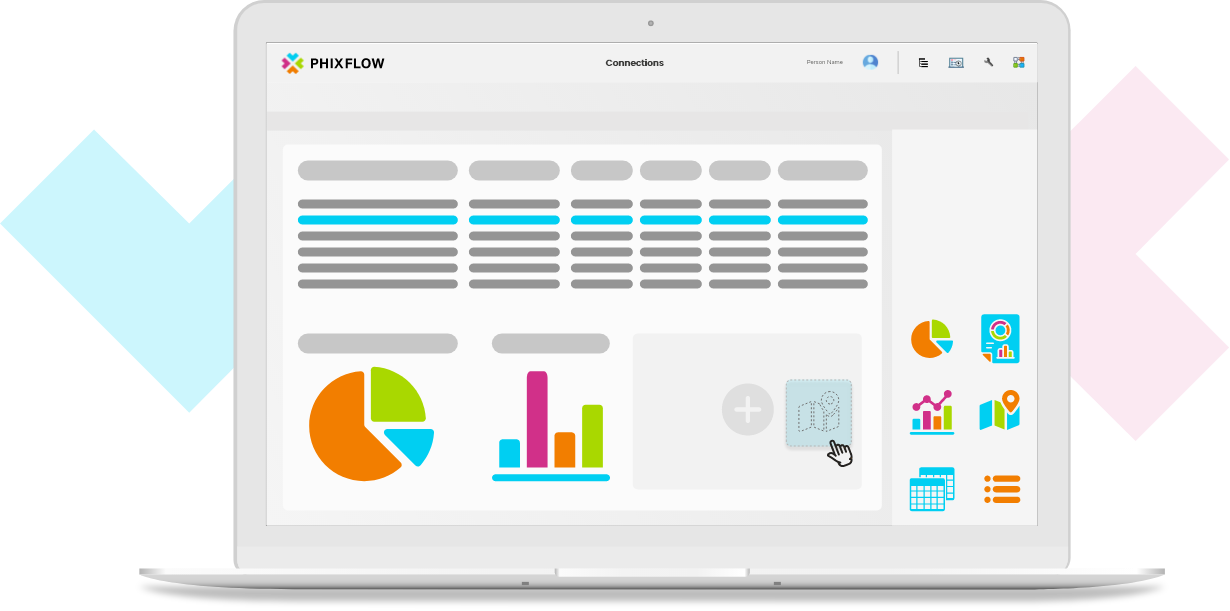 Benefits of Low-Code application development
.
Collaboration on a whole new level
.
Collaboration between departments is increased as teams work together to develop creative solutions and applications that benefit everyone.
Improved agility
.
Low-Code application development is fast, really fast. This allows you to respond to new challenges and create applications without delay.
Significant cost reductions
.
With more of your team able to create applications there's less need outsource to specialist developers, greatly reducing costs.
What is Low-Code?
Low-Code application development takes a new approach to developing software, enabling more business users to create software. These development platforms help companies utilise non-programmers, otherwise known as citizen developers, to build applications by utilising drag and drop functionality to connect data sources, analyse and enrich data, build forms and screens, and automate business processes.
It's not just citizen developers that will benefit from the use of Low-Code. Experienced developers will also gain too. Initial application designs and proof of concepts can be created quickly. Then, when the application needs to be extended, code can be added to provide additional calculations and business logic.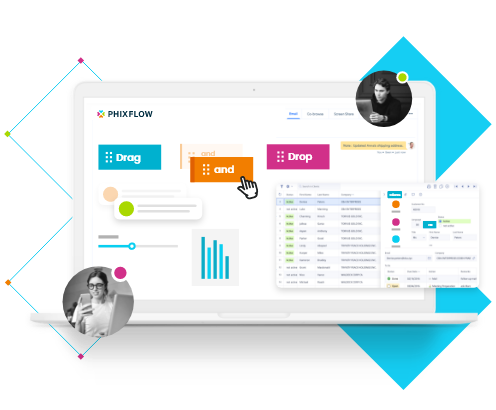 Enable anyone to create applications
.
Speed up development for professional developers
.
With more and more requests for applications being sent to IT, Low-Code development enables your professional developers to smash through the backlog in record time.
Drag and drop design with reusable data connections and components eliminates the need for traditional hand-coding.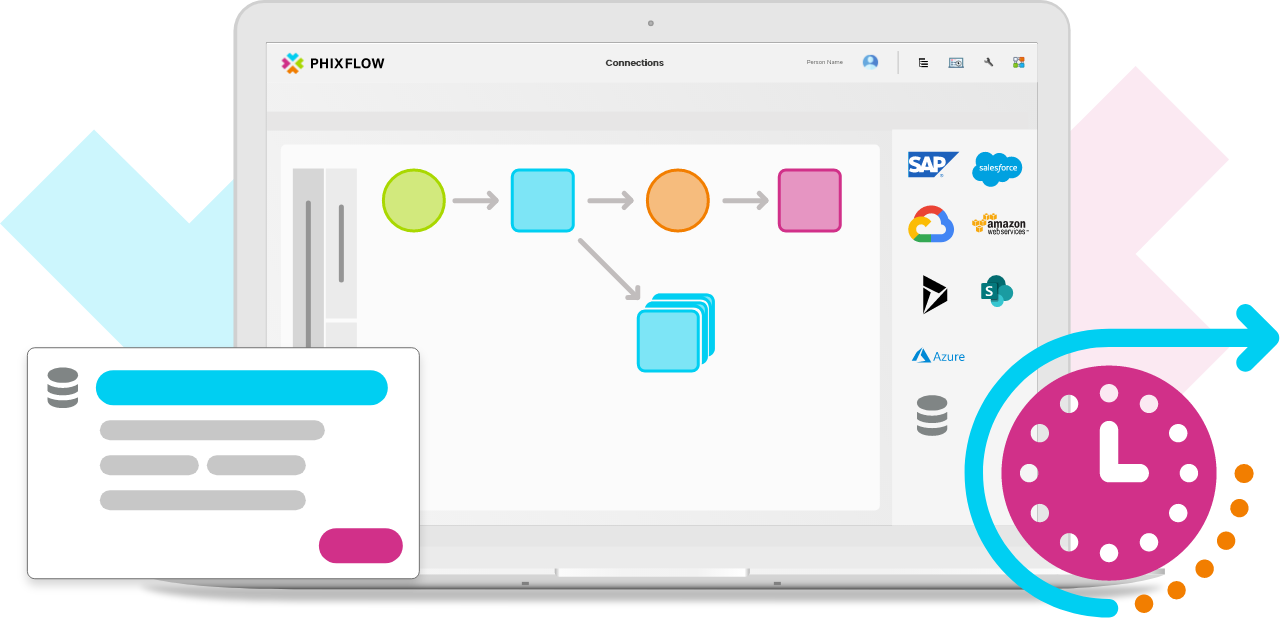 Empower anyone in your business to create applications
.
Non-professional developer, often called Citizen Developers, are the non-IT users in your business who need applications to automate processes or provide dashboards to help them provide an improved, more efficient service for your customers.
Low-Code application developers lets these users create their own applications and reduce the burden on IT.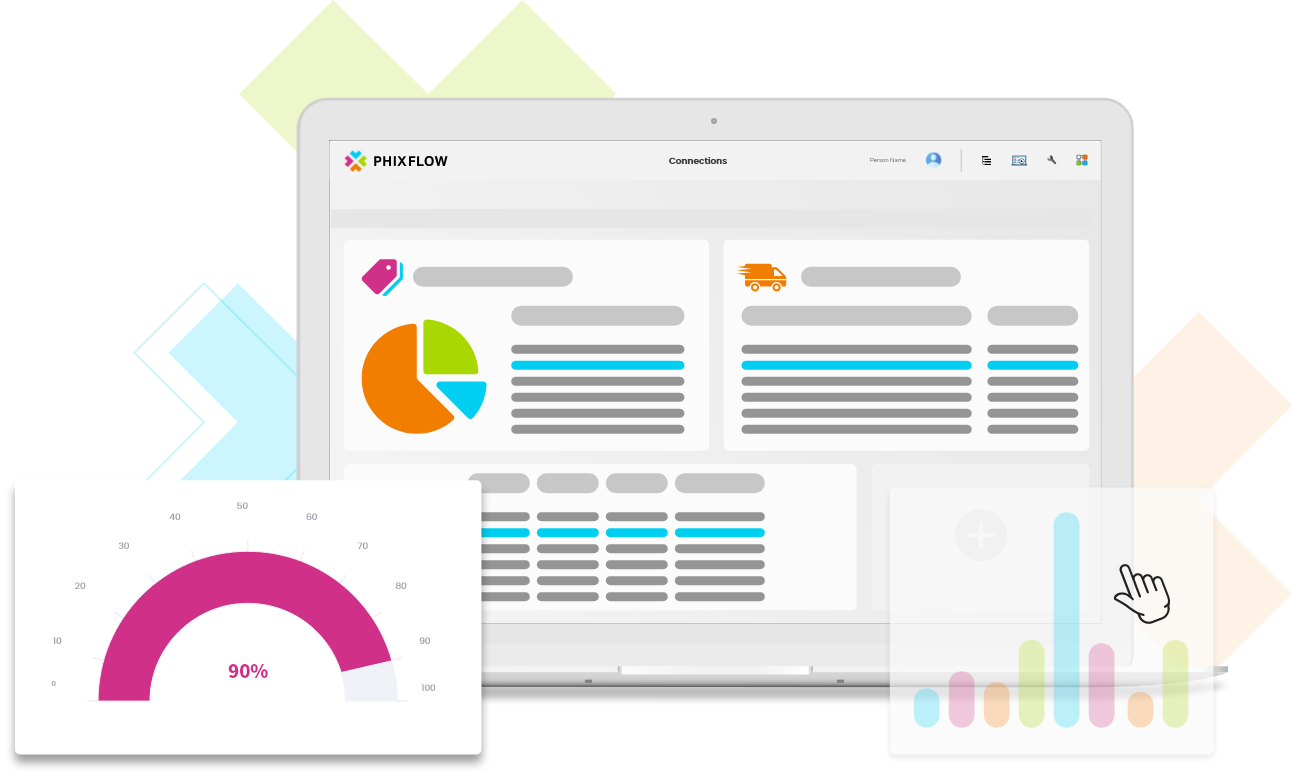 The PhixFlow Low-Code platform
.
Empower your team to easily create applications that integrate with your internal systems and build screens and dashboards to interact with the data. No technical skills required.
Data integration
.
Connect to your internal systems faster than ever.
Process automation
.
Automate manual tasks to free up people and increase productivity.
Mobile applications
.
Deliver responsive applications to work anywhere, on any device.
Advanced analytics
.
Process, analyse and improve data quality on large amounts of data.
What will you build with Low-code?
Find out why the world's leading companies choose PhixFlow
Replacing Spreadsheet Processes for Virgin Media
Virgin Media needed a tool to support cable laying projects for new homes and businesses. PhixFlow Limited replaced a spreadsheet solution with a secure, multi-user toolset available to end-users anywhere.
Low-Code order tracking for Tesco
At Tesco Direct, PhixFlow proved its versatility in supporting any business function. Used in areas as diverse as complete online order tracking; customer care decision support for order replacement; and test automation of the Tesco Direct website.
Going Beyond Standard Bank Reconciliation
The Post Office reviewed bank reconciliation software but found nothing that matched their processes. PhixFlow was chosen because the bank and A/R feeds could just be configured, processing logic was graphically modelled and user screens were designed by their staff.
The latest Low-Code articles from our blog
.
The top 3 ways Low-Code has changed application development
Digital transformation has been at the top of many businesses' priorities, but the speed at which businesses have been able to digitise their manual processes has been relatively slow. Enter Low-Code!
What is Low-Code?
In this article, we will examine what is meant by Low-Code and why Forrester predict that up to 75% of development companies will adopt Low-Code to deliver applications faster.
Speed up new application Development
How to rapidly develop and deploy new applications to meet with you organisation's digital transformation strategies using Low-Code.