Customer Experience Apps with Low-Code
Digital transformation has been at the top of many businesses' priorities, but the speed at which businesses have been able to digitise their manual processes has been relatively slow. Enter Low-Code!
Mobile technology and smartphones mean that we're always connected and demand so much more information than ever before.  As a result, more and more companies are placing even more focus on their customers, installing processes and applications that improve the customer experience. Let's quickly examine why.
Great Customer experience leads to happy customers and a better bottom-line
Consumers will pay a 16% price premium for great customer experience. (PwC)
Retained customers will pay a 17% price premium if it means getting excellent service. (American Express)
The link between great customer and experience and happy customers maybe obvious but can lead to a healthier bottom line for your business.
So how can you improve your customer's experiences? In this article we will look at three customer experience apps that can be built quickly using the PhixFlow Low-Code development platform that will achieve just that.
App #1 – Integrated case management
Most business will already be utilising a case management system which enables them to keep track of customer issues, however, these systems are completely isolated from other systems in the business.
Take the scenario of a customer wishing to add extra features to their subscription. A customer care representative may have to access multiple systems to find the cost of the features and manually add it to a customer order system that sits outside of the case management system. Manual errors during data entry cause unnecessary delays for your customer, who will often have no visibility of the status of their request resulting in making several follow-up calls and feeling frustrated.
Low-Code application development platforms enable businesses to create customer experience apps that link all the systems together and create an interface for both the customer support agent and the customer alike, providing greater visibility. This application means that the data is available in one central application and speeds up the entire process, giving the customer a greater degree of satisfaction.
App #2 – Build a customer portal
Giving your customer more information and control, whenever and wherever they need it, is only possible through customer portals which have become a cornerstone of excellent customer service. Whilst there are out-of-the box software solutions available they are often restricted and difficult to customise to your exact requirements.
An alternative to out-of-the-box solutions is to build your own bespoke solution, hiring programmers and developers, which is time consuming and expensive. This method of bespoke building also makes improvements and upgrades difficult and costly.
The solution is to use Low-Code, as its faster, simpler and more cost-effective to build your Minimum Viable Product (MVP), test and deploy. Low-code application building requires less programming knowledge, utilising drag-and-drop user interfaces. Also, when needing to make slight changes to workflows or processes there will be no need to call in external developers.
App #3 – Customer Data Analysis application
With more and more volumes of customer data available, often spanning across multiple systems used by different business units. All this information combines provide you with business intelligence that can help you improve business processes.
Low-Code makes it easy to build customer experience apps that connect all your business systems and perform analysis on the data. Such analysis can include Customer Churn/Attrition analysis, purchasing patterns, and complaints analysis.
Using this analysis will help you improve product offerings, identify which customers need more attention or are showing buying signals, and make changes to internal processes to create better customer experiences.
Download

our free guide and unlock the potential from your data
Data Potential Download
Form to pass details to Force 24 and re-direct to the Landing Page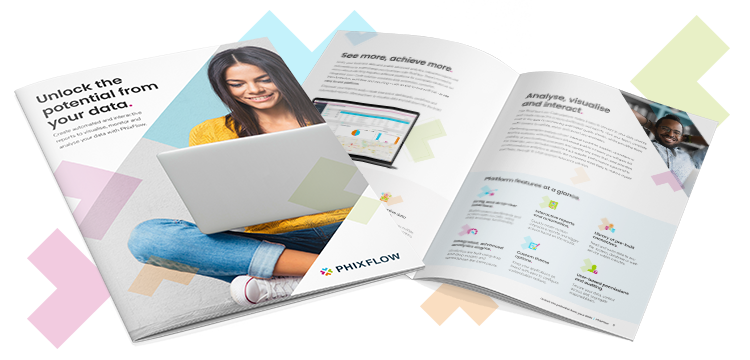 Summary
The world is becoming increasingly competitive, with customer experience being the tell-tale sign of business performance. Improving your customers experience is vital to succeed in today's market.
There are many ways to achieve this, as we have discovered. With customer expectations on the rise, it is important to be able to deliver the applications that underpin these experiences quickly. Customers are no longer willing to wait for long onboarding processes or building times. They want these apps, and they want them immediately.
With PhixFlow's Low-Code application development platform you can slash development times, free up valuable IT staff to focus on their core function and reduce errors in many areas across an organisation. Suddenly you can respond immediately to changing customer expectations, staying ahead of your competitors and thrilling your customers.
Can your business afford to ignore the benefits of improved customer experience? For more information on PhixFlow please contact a member of our sales team on enquiries@phixflow.com or book a demo.