Driving Digital Transformation with Low-Code
Businesses need to ensure that they can move quickly, adapting to changing circumstances and making sure that they are one-step ahead of the competition, which is why digital transformation with Low-Code is so important.
In an ever-evolving world, businesses need to ensure that they can move quickly, adapting to changing circumstances and making sure that they are one-step ahead of the competition, which is why digital transformation is at the top of virtually every organisation's list of priorities.
The term digital transformation means a lot of different things to different people. To ensure success with your digital transformation strategy you must have a clear understanding of what digital transformation is, along with a clear vision of your goals and purpose.
Let's dive in.
What is digital transformation?
There are many definitions for digital transformation. For example, Gartner defines digital transformation[1] as:
"Digital transformation can refer to anything from IT modernization (for example, cloud computing), to digital optimization, to the invention of new digital business models."
Whilst Forrester defines the digital transformation services category as[2]:
"service providers bringing a portfolio of transformation capabilities to help clients harness digital assets, skills, and ecosystems to continuously improve customer outcomes, drive revenue growth, and increase operational effectiveness while minimizing risk from changing market conditions."
And finally, in a co-authored article by the Word Economic Forum and Accenture, digital transformation is broadly defined as:
"Digital innovation is reshaping industries by disrupting existing business and operating models."
Despite the varying definitions, the simplest way to define digital transformation is the process of using digital technologies to modify existing, or creating new, business processes to increase operational efficiency, enhance customer and employee experiences and drive growth.
However, definitions aside, digital transformation will look different for every business, therefore it is hard to create a definition that applies to everyone. What is clear though is that digital transformation must be at the forefront of a business' agenda to ensure future success and should not be seen as a short-term fix.
What is the difference between digitization, digitalization and digital transformation?
Often, you will come across the terms digitization and digitalization when discussing digital transformation, however, there are some key differences to be aware of. So, let's examine the differences between each.
Digitization
Digitization is when a business is converting a physical document to a digital format. This can be achieved in a variety of ways. For example, scanning a document and saving as a PDF or by using OCR software to insert records into a database.
Digitalization
Digitalization is the process of using the information that you have made available through digitization, to make established ways of working simpler, more efficient and collaborative. A good example of this would be taking a spreadsheet that is stored on an individual user's PC, saving it to the company's cloud storage and sharing it with relevant team members who may benefit from the data contained within it.
On the face of it, digitalization and digital transformation may seem very similar. The main difference is that digitalization isn't about changing how you do business, it's about making sure that employees have access to the data they need in a digital format.
Digital transformation, however, is changing the way that businesses operate. Those businesses who are successful at it will look at everything they do, from internal systems and processes to interactions with the customer. They will identify where they can change processes to enable efficiencies through data analysis, spot customer trends or provide better customer experiences.
Why is digital transformation important?
Customer expectations are driving digital transformation strategy for businesses as more and more of them receive digitally enhanced experiences from the companies they deal with. Without adopting digital transformation within your organisation your competitors will be able to scale up more effectively and reach more customers, whilst offering a better end-to-end experience.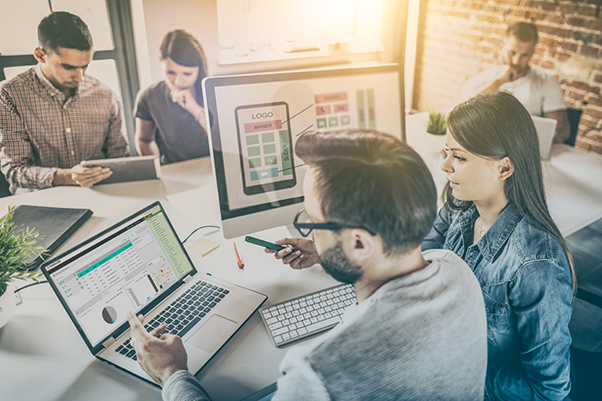 It's not just your customers that benefit from digital transformation. Business operations and employee experience are just as important too. Difficult trading conditions and market unpredictability mean that businesses must make their operation as lean as possible, without compromising on other areas such as quality or customer service.  Employees too are becoming more demanding, anticipating the same experience in their professional environment as they do in their personal lives.
What are the benefits of digital transformation?
There are many advantages to digital transformation which have the potential to take your business to the next level. Let's have a look at the most common benefits.
Enhanced customer experience
Research has found that personalising your customer engagements increases the likelihood of repeat purchases. By utilising digital technology, you can go much further than just adding a name to communications.
For example, you can analyse their previous purchases and the interactions that they have had with various channels to ensure that you send them recommendations based on their preferences.
Adopting these technologies doesn't need to stop within the sales process. There are many other areas that the customer experience can be improved upon through digital transformation. For example, for more complex B2B customers, a business can improve the customer onboarding process by automating many of the tasks that sit across various departments and making the status of their onboarding journey available through a customer portal.
Greater internal collaboration
Many businesses are always looking to improve collaboration between departments who have become siloed. Online tools like Trello, Jira and even Microsoft Office applications do help in improving inter-departmental collaboration but could go a step further.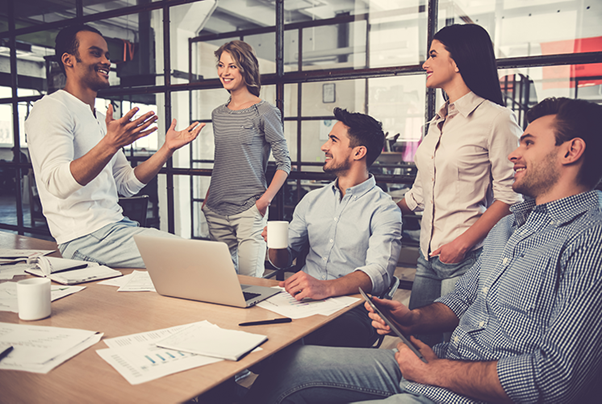 Creating bespoke applications with Low-Code development platforms provides a great opportunity for business users, across multiple departments to contribute and collaborate towards the development of the final app. This increases each department's understanding of the requirements for their colleague's departments.
More insights
The digitalization of processes and business operations gives you access to more data than ever before, which gives you the ability track a plethora of different metrics, allowing you to identify problem areas faster.
A great example of this would be analysing customer churn, or attrition. By analysing customer data, you will be able to identify which customers might be most likely to leave and proactively target those customers, ensuring that they continue to buy your products or services.
Increased agility and innovation
Utilising Low-Code tools to create new business applications, in a fraction of the time that it takes for traditional development methods, enables your business to become more agile which will allow you more time to focus on innovation. Innovation is also made easier through the analysis of data, making it easier to spot trends and areas that need improvement.
Improved Efficiency and lower costs
Many digital transformation strategies will require new systems to be implemented within an organisation, to facilitate new processes identified. Whilst there may be some off-the-shelf solutions available, they may not fully meet with your requirements and compromises may have to be accepted. Larger businesses may have resources and skills available within the IT department, but their time is stretched as it is. Bringing in external resources is costly and time consuming.
An alternative would be to look at Low-Code application development, which enables businesses to utilise subject matter experts within your own business to be involved in creating bespoke applications without the need for programming skills, instead using drag and drop user interfaces. This, coupled with the iterative approach to development, means that applications can be deployed faster and at a fraction of the cost.
How to get started with digital transformation
Before starting out on any digital transformation journey, it is essential to consider your reasons for approaching digital transformation with Low-Code and where you want to take your business as a result.
Deciding on what changes you want to make within your business will rely on doing research and identifying the key areas of the business that are siloed, rely on manual processes, or are struggling with the demands placed on them.
Once you have all of your research done, it's time to look at how to fix the problems, utilising digital technology, and whether you need external support to meet your objectives and deadlines.
How PhixFlow can help
Low-Code development platforms change the way that custom business software is created, opening the door for more people to create powerful applications which improve customer and employee experiences and drive efficiency.
At PhixFlow, not only do we have the tools to help you succeed at digital transformation with Low-Code, but we also have the expertise to help too. Our dedicated consultants can provide whatever level of assistance you need, whether it be creating the initial applications for you, through to providing your teams with the training you need to get started with Low-Code application development.
Free Guide

Download our free guide to learn the top 5 digital transformation trends for 2021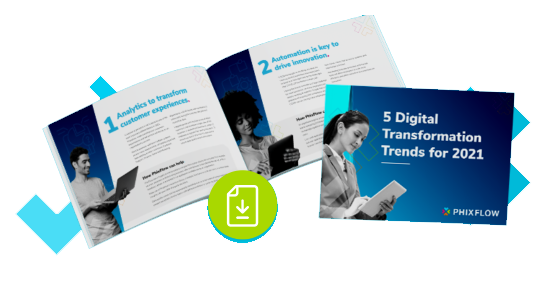 For more information, or to request a demonstration, please click here.
[1] https://www.gartner.com/en/information-technology/glossary/digital-transformation#:~:text=Digital%20transformation%20can%20refer%20to,services%20online%20or%20legacy%20modernization.
[2] https://go.forrester.com/blogs/accelerate-digital-transformation-with-the-right-strategic-partner/