Ensuring productivity with a remote workforce
Working from home has become more commonplace since the coronavirus pandemic, but how can you ensure that your remote employees have access to the tools they need to keep productivity high?
Remote working is becoming more and more common, with many employees working from home, where they can, for most of the working week. This has led to a rise in popularity for many video conferencing solutions.
However, there is more to working life than attending online meetings. So, how do businesses ensure that their remote workforce have access to the systems and data that is required to carry out their day-to-day tasks?
In this article, we will look at how Low-Code applications can support not only those currently forced to work from home, but also those employees who normally work remotely.
The Low-Code solution to remote working
Many businesses already have systems in place that support their digital transformation strategies, such as remote access to standard office applications, but many are now looking at how they can improve access to data and systems covering entire business processes. That's where Low-Code applications can help.
Free Guide

Download our free guide to learn the top 5 digital transformation trends for 2021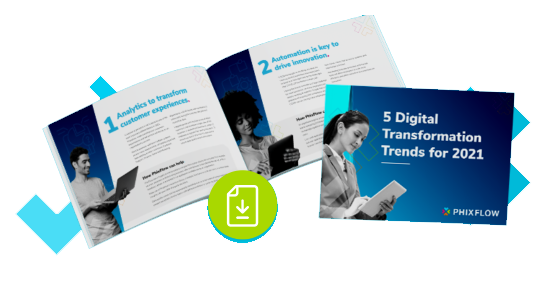 Project management with Low-Code
Take, for example, the issue of ensuring that remote teams are managing to stay on track with ongoing projects. Daily scrum calls via video conferencing software helps ensure that staff can discuss what they are working on, but managers need to make sure that they have an overall picture of progress and can distribute the tasks to the right employees. Using a Low-Code development platform, IT departments and business function owners can rapidly create a project management application. In fact, at PhixFlow we have done just that. Our projects tasks are allocated and tracked using Project Tracker, our own project management solution, built using the PhixFlow platform.
Accessing data from multiple sources
Another key advantage for Low-Code development platforms is the ability to pull in data from multiple sources to enable teams to access the information they need, when they need it, in one simple interface.
Many customer services teams are already performing their duties remotely and accessing customer data that is stored in on-premise solutions, back at the office, can be extremely costly, especially when there are licensing considerations for VPN or extra user licences for systems.
Develop at speed
The main advantage that Low-Code application development offers is the speed at which applications can be developed and deployed to employees, regardless of their location. Development times are slashed due to the use of drag and drop user interfaces, pre-built templates and data connectors, which negate the need for extensive programming knowledge. The final applications can be securely accessed via a web-browser, whether that be on a laptop, tablet or mobile device.
Summary
During these times of uncertainty, it is vital that businesses can operate as efficiently and as 'normally' as possible, therefore maintaining employee productivity and customer service are paramount to survival. This can only be achieved with visibility of performance and access to the right data.
Low-Code development platforms enable the rapid deployment of new tools that connect multiple data sources, providing managers and employees access to dashboards, reports and business process workflows at a fraction of the time and cost. Business IT functions will have less strain placed upon them, as much of the development can be done by 'citizen developers', all on a platform that provides the compliance and security required.
Discover how your remote workforce can benefit from business applications rapidly developed and deployed using Low-Code, with a demonstration of PhixFlow.