How to accelerate your digital transformation objectives
Digital transformation is not new, but its importance is gathering momentum. in this article we look at how you can speed up application development to support your digital transformation objectives.
Digital transformation is not new, but its importance is gathering momentum especially in the wake of the coronavirus pandemic.
Recent research by IDC indicates that global spending on digital transformation technologies and services is forecast to grow 10.4% in 2020 to $1.3 trillion1. In this article we will look at digital transformation in more detail and how the use of Low-Code application platforms can accelerate the progress for businesses.
Firstly, we need to define digital transformation and examine who is responsible for implementation.
What is digital transformation?
So digital transformation, often referred to as DT or DX is the adoption of digital technology to improve business processes by replacing manual processes or older systems with newer digital technology. A common example of this would be to replace paper-based processes to reduce costs and increase visibility.
Most commonly this initiative is ideally lead by the CEO and supported CIOs and other senior business leaders. The success of any digital transformation strategy is dependent on collaboration. It is essential to establish cross-departmental collaboration to ensure that process models are matched to the correct rapid application tools.
Free Guide

Download our free guide to learn the top 5 digital transformation trends for 2021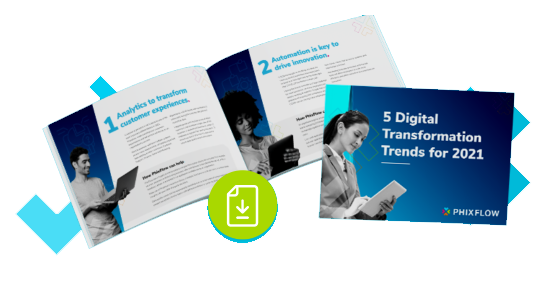 Drivers for digital transformation
There are many reasons for businesses to embark on the digital transformation journey such as new business models and revenue streams. During the Coronavirus pandemic, many IT leaders have had to place a higher priority on their digital transformation plans as customer expectations have changed along with a wider adoption of team members working from home.
We have increasingly seen meetings conducted via video conferencing solutions, but how do businesses enable access to systems, data and business processes to their employees who are working remotely?
There is a plethora of off the shelf tools available to IT leaders to support the changes required, but often these solutions fall short as most businesses will have their own complexities and processes unique to them. So, what other options are there?
One option that IT can consider is the customise existing software, or perhaps developing their own software solutions. – Both options are costly as it requires specialist developers and coders. Furthermore, the time take to develop custom solutions is often slow. However, there is another option.
Introducing Low-Code
The rise of Low-Code development platforms, such as PhixFlow, offer a flexible and faster approach to traditional development methods. These platforms provide a user-friendly drag and drop interfaces, that dispense with the need to hand-code the software. This opens up the possibility for 'citizen developers' to get involved in the creation of new software or applications that improve business processes. This greatly reduced the burden on the IT department, who can focus on the infrastructure to support the business.
Speeding up the development process
With application development now open those without coding skills you may expect that development times would increase, but that isn't the case at all. By allowing process owners access to Low-Code development platforms the development process actually speeds up. This is down to two main factors: the users understanding of the problem and the iterative approach to software development.
In more traditional approaches to software development a lot of time is spend gathering requirements and briefing a development team, who will in turn have to interpret the brief given to them before they start hand coding the software. With no experience of the business process that they are creating a solution for it is likely that not every scenario in the process workflow is accounted for. So, when the solution reaches the testing phase it is likely that a problem will be discovered and more coding will be required to fix the problem.
With a Low-Code development approach, the problem owner can quickly create the business process workflow, using a drag-and-drop user interface. This coupled with their complete understanding of the process means that every scenario is more likely to be catered for, thus speeding up development time.
Low-Code platforms also support an iterative approach to software development, allowing users to test functionality, make changes and re-test before deploying an application. This not only allows a faster route to a minimum viable product (MVP) but also allows improvements to be made to the application without having to go back to software developers to re-code and release new versions.
Summary
In today's fast-paced business environment Low-Code development platforms offer the opportunity to relieve the burden placed on IT departments and developers by allowing more people to be involved in the creation of new software that improve business processes and accelerate digital transformation goals.
Whilst Low-Code development platforms open software development to all, some business may still need assistance to get their projects off the ground. At PhixFlow we're here to assist you with your digital transformation goals. Our Rapid Application Delivery Programme is designed to accelerate the development of applications with the support of our expert consultants.
Please get in touch to request a free demonstration of the PhixFlow Low-Code development platform.