How to choose a Low-Code platform for your digital transformation
With many different low-code platforms available, it can be overwhelming. Knowing what to look for in a platform is key to ensuring you select the best platform to support your digital transformation objectives.
Digital transformation is at the forefront of many businesses' priorities. Increasingly companies are using digital technologies to modify existing, or create new, business processes to increase operational efficiency, enhance customer and employee experiences and drive growth. The benefits of this are clear, with Forbes finding that 84% of companies that make digital transformation a priority have a noticeable increase in revenue as a result[1].
With ever changing working conditions and market requirements, it can be difficult to keep on top of everything, never mind stay ahead. This has led to more companies turning to Low-Code platforms to carry out their programs of digital transformation.
What is a Low-Code platform?
Low-Code application development platforms replace the need for laborious hand-coding, massively speeding up the process of digital transformation. Successful digital transformation is a cultural change that impacts all processes, systems, actions, and people across the organization. The right Low-Code technology provides the tools for change, while supporting this cultural change- allowing for inter-departmental collaboration and empowering users outside of IT to play a key role in designing the applications they need to propel the business forward.
However, it is important to select the right Low-Code platform for your company. With many different providers out there, it can be overwhelming. Knowing what to look for in a platform is key to ensuring you select the best platform to support your company's digital transformation.
The main points to consider when choosing a Low-Code platform
Here we shall discuss the most important points to consider when selecting a Low-Code platform for your company's digital transformation:
Faster delivery
One of Low-Code's main advantages over traditional software stacks is that they can deliver applications quickly. Instead of months, sometimes even years, to get applications out, with Low-Code you can have custom applications deployed to your users in a matter of weeks, if not days.
When selecting a Low-Code platform, find out the companies track record on delivering applications at speed. Often companies will give you timescales for their most simple app. While "just a few hours" may seem enticing, it is important to know how long it takes for the most complex of applications too.
Free Guide

Download our free guide to learn the top 5 digital transformation trends for 2021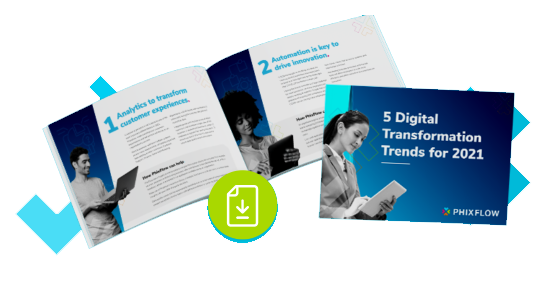 Functionality
Another advantage of a Low-Code application development platform is that you can consolidate the number of software solutions required and focus on just one vendor, one licence fee and one version of the truth. This can only happen if you can build everything you need to on the platform; thus, you want to select the solution that can do the most.
To get the most out of Low-Code you want your platform to do whatever it is that your company may need. For example, PhixFlow can perform complex process automation, complex analytics, migrations, data cleanses, revenue assurance, and the list goes on. By looking at the widest range of functionality you ensure that your Low-Code platform is future proof, enabling you to keep up with ever changing demands of the market.
Ways to use
When we think of Low-Code, you may instantly think of citizen developers. While the prospect of getting Jean in accounting to create her own accounting application is appealing, it may not, initially, be realistic.
The advantage of Low-Code is that hand coding becomes optional and can be replaced with drag and drop functionality. Developers will create applications faster whilst citizen developers become part of the designing process, making amendments to the applications themselves.
However, sometimes complex applications are needed fast and without a development team on standby, even with a Low-Code platform you can be left stuck. At PhixFlow, there are a team of consultants ready to take on your most challenging projects for you. This can be done along side your development team to help them learn the skills required to get the most complex applications built themselves. Having the flexibility in how to use the platform enables you to truly get the most out of it, which is why it is key to look into a the levels of support a Low-Code provider can offer you.
Responsive
Mobile devices, such as smart phones and tablets, play a crucial role in digital transformation. Staff have the flexibility to work where and how they wish, resulting in higher engagement and productivity.
When designing applications, it is important to have confidence that it will be responsive and secure on any mobile device. This may be inherent to a process, such as with Virgin Media. They needed an application for their engineers to update on the go and out in the field, so their Low-Code provider had to offer that functionality. While your process may not currently require mobile access, it is important to keep ahead of market trends and plan for the future of your company.
End-to-end integration
In an ideal world your Low-Code platform would replace all your other license fees and applications. However, this may not be possible, or at least not at first.
With data stored in legacy systems, the cloud, emails, CRMs etc., it is key that any Low-Code platform can connect with any system. Not all platforms have this functionality, which can quickly scupper plans for workflows. Instead, look for solutions that are open and integrated. This allows you to build an ecosystem that serves your distinct needs.
It is also important to make sure that the platform can integrate easily with other systems. Not only must it have the connectors needed to do so, but it must have a light touch on those systems to prevent slowing down the very workflows you are trying to speed up.
Is it pretty? Designing the look and feel that you want
How applications look isn't always at the forefront of people's minds, however it has a really big impact on users. A professional looking interface, with your companies own specific feel to it, helps ensure apps are easy and enjoyable to use.
Employee experience inevitably determines the customers' experience. If your employees don't enjoy the software, they won't use it as efficiently. If they're not using it efficiently, then it's your customers who are left waiting.
Proven scalability
How many users will your platform be supporting? What amount of data will it be processing? These are the questions that are, rightly, key to most companies searches for a Low-Code platform. It is important to ensure the platform can manage your current level of usage, and your future usage.
Every business is looking to grow and so you need your applications to grow with you. Therefore, you want to know that the solution can handle more than your current requirement. All Low-Code application development platforms differ on their ability to handle large numbers of users and data. Therefore, make sure that you select a provider that can grow with you.
To find out more about how PhixFlow can help you meet these requirements, request a demo here.
Sources:
[1] https://www.forbes.com/sites/blakemorgan/2019/09/24/50-stats-that-prove-the-value-of-customer-experience/?utm_source=xp&utm_medium=blog&utm_campaign=content#4949bb054ef2