Low-Code: IT's new strategic asset in digital transformation
How can low-code platforms can help with the work burden and become IT's new strategic asset in achieving digital transformation objectives.
Relieving the strain on over-burdened IT departments is something that many CEO's are facing, especially in today's fast-paced world. Covid-19 has brought new challenges to the table, with more and more employees working remotely, highlighting the need for the acceleration of digital transformation initiatives.
So, just how do IT departments keep up with the demands being placed on them? There are requests for updating infrastructure, enabling remote access to systems, and the need to create solutions that automate manual tasks. Keeping up with the demands of employees' IT support needs is time-consuming as it is, so the prospect of creating or implementing new systems is daunting at best.
Let's take a look at how low-code platforms can help with the work burden and become IT's new strategic asset in achieving digital transformation objectives.
What are low-code platforms?
Firstly, let's take a look at what is meant by low-code.
Gartner defines a low-code application platform as "providing rapid application development using low-code and no-code techniques such as declarative, model-driven application design and development together with the simplified one-button deployment of applications"[1].
The basic premise of these systems is that the creation of applications can be centrally controlled by the IT department, yet business users from other departments can create the applications themselves. This is achieved through a new approach to software development that removes the need for application developers to know complex coding languages. Instead, a drag and drop interface is used to create data connections, relationships, workflows, dashboards and user interfaces. All of the code required is handled by the application platform itself. More experienced developers can extend or add custom code if required.
The importance of low-code
Forrester, a leading market research company, predicts that 2021 will see an accelerated demand and adoption of low-code platforms to build and deploy new applications quickly. They also predict that 75% of development organisations will use low-code platforms.
So, just why are so many organisations experimenting and planning to adopt low-code? Surely, by their nature, without needing people to programme software from the ground up, these applications can't be complex enough to meet the demands of digital transformation.  There are many people that don't believe that these applications are up to the task, and that they can only be used to create simple applications that will plug some gaps in their digital transformation plans, but that's as far as it goes.
However, if you look at the benefits that low-code applications provide, it is easy to dispel that belief. Let's take a closer look at the benefits.
The benefits of using low-code for digital transformation
Low-code applications offer significant benefits, to organisations of all sizes, but especially those with digital transformation targets to achieve, with many projects and tight timescales.
Faster application development
Business users are putting increasing pressure on IT departments to provide them with solutions that connect and analyse data. Traditional methods of software development will often take months, if not years if there isn't the development resources available within the IT department. The low-code approach speeds up the development cycle, making it much easier and faster for both experienced IT professionals and business users to get an application to the minimum viable product stage, often delivering new applications in weeks. Further iterations can be added and deployed easily, often at the click of a button.
Joining IT with the rest of the business
Low-code platforms, like PhixFlow, enable the collaboration between IT and the rest of the business when creating applications. Obviously, there will always be a level of control and visibility that needs to be retained by IT, which can be achieved as they remain as the administrators for such systems, but they don't always have the time to create every application themselves. Instead, with compliance and control maintained, the development can be passed on to business users, also known as citizen developers.
Free Guide

Download our free guide to learn the top 5 digital transformation trends for 2021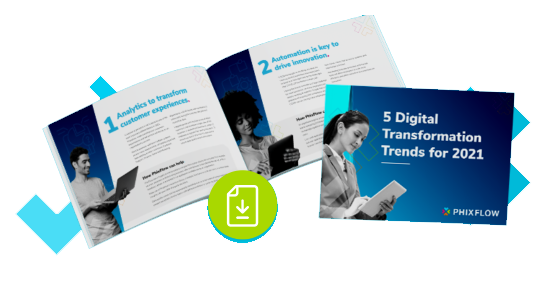 Lower resourcing costs
As more and more of the development can be placed in the hands of existing business users, there are no problems in trying to bridge the skills gap or employ additional, costly development resources. These citizen developers will know the processes in their own departments, far better than anyone from the IT departments or external development teams, and can get the application built to a point that then only needs involvement from existing in-house experts who can add additional code if required.
Improved access to data
Many businesses will be using a mixture of legacy systems and off the shelf products, containing vast amounts of data that either cannot be accessed remotely, require extra user licences, or complex VPN systems to ensure that the data can be accessed securely. Low-code platforms, such as PhixFlow enable the data from these systems to be accessed and powerful web applications created, enabling remote teams to access the data they need, where they need it.
Better data
Finally, with the ability to connect legacy systems, off the shelf solutions, and web applications, low-code platforms offer the ability to improve and standardize data throughout an organisation, ensuring consistency and fewer errors.
The future is low-code
With so many benefits, and the ability to extend applications with additional code, if required, it is difficult to ignore low-code platforms, especially when embarking on digital transformation initiatives that need to be achieved at speed.
If your business is experiencing a high demand for new applications, or you are interested in how your can harness the power of low-code, please request a demo.
[1] https://www.gartner.com/reviews/market/enterprise-low-code-application-platform