The role of Low-Code platforms in digital transformation
Many organisations still face challenges in getting started with digital transformation, with a lack of developers, time, and ever-changing demands, and that's where low-code platforms come in.
"It is not the strongest of the species that survives, nor the most intelligent that survives. It is the one that is the most adaptable to change." — CHARLES DARWIN
Gone are the days of searching through mountains of papers to find that one form you need. From paper processes to computers, business processes have changed drastically throughout the past 30 years and the rate of change is ever increasing.
Many organisations are using business applications to automate tasks, optimise resources and accelerate productivity in pursuit of digital transformation. The simplest way to define digital transformation is the process of using digital technologies to modify existing, or creating new, business processes to increase operational efficiency, enhance customer and employee experiences and drive growth.
While digital transformation has been on the radar of most organisations for a while now, Covid-19 has pushed it to the forefront for many. The pandemic, and changing ways of working associated with it, have forced many organisations to change their processes entirely.
This is where digital transformation has come into centre stage. However, despite the growing need for digital transformation across businesses, many organisations still face challenges in getting started, with a lack of developers, time, and ever-changing demands.
That's where Low-Code application development platforms come in.
Free Guide

Download our free guide to learn the top 5 digital transformation trends for 2021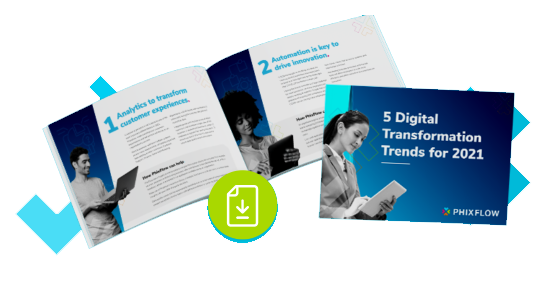 The benefits of using low code for digital transformation
So, let's examine the benefits of utilising Low-Code development for your digital transformation projects.
Increase productivity
Building bespoke applications has historically been a time-consuming process, taking months if not years, with teams of costly, highly skilled developers. However, developers can produce apps up to 10x faster[1] with Low-Code than with other forms of app development. With drag and drop functionality, there is no longer the lengthy process of writing complex lines of code.
Even with pre-built software, it not only takes time to research, choose and install, but you find that it doesn't quite fit with your organisations processes. You are then left with the task of finding and plugging those gaps, or changing your internal processes to fit with the newly installed solution. With Low-Code applications you have the capability to design the applications to your specific requirements, reducing the time spent finding and fixing problems.
Furthermore, while low code increases the productivity of the digital transformation process, the apps themselves increase the businesses productivity. Digital transformation should make people's lives easier. Apps built on a platform like PhixFlow, will be able to automate workflows while performing complex analytics and ensuring data quality.
Democratise the process of designing applications
Low-Code development platforms open the development process to more users within the business by removing the need to hand code. The skill set required needs less programming and database knowledge, meaning that so called "citizen developers" can be involved in, or even take over, the building process.
With end-users suddenly able to take a much more active role in the design of processes, applications are developed more quickly, whilst becoming much more efficient and able to produce the specific outcomes needed for a particular task.
Easy to make changes
By democratising the processes of designing applications, building becomes a collaborative process where iterative changes and tweaks are expected and actively encouraged. Changes can be made in hours rather than months and users can continually test and refine throughout the development cycle.
It's not just throughout development that changes can be made either. Ever been notified of a change to your reporting criteria? Realised you can improve a process by changing it? No problem. With Low-Code application development platforms like PhixFlow, you can make changes to processes whenever the need arises and within a matter of hours or days.
Customer satisfaction
The ultimate goal of digital transformation is improving the customer experience. While replacing a boring, manual process will undoubtedly cheer up Jude in accounting, it will also increase the speed by which the customer can receive that information.
This is reflected in statistics from Forbes, who found that 84% of companies that make digital transformation a priority have a noticeable increase in revenue as a result[2]. The brands performing best in the area can produce as much as 5.7 times more income than those that have not made this their focus[3]. This may be because 73% of clients say that a major factor in their choice of brands is their ability to offer an excellent customer experience.
Low-Code makes your company more customer-centric by ensuring that, as with Jude in accounting, customers can receive the results they need faster. Furthermore, by using Low-Code data integration software, you can improve insights by improving data quality and the speed of data integration. Improving insights means you can base your decisions on accurate data directly from your customers, ensuring you are tailoring your business to their needs.
So, not only can digital transformation done right make your life easier, but it can also make your company more money!!
To find out more about how PhixFlow can assist your company's digital transformation, request a demo here.
Sources:
1) https://www.forbes.com/sites/tomtaulli/2019/02/17/what-you-need-to-know-about-the-low-code-market/?utm_source=xp&utm_medium=blog&utm_campaign=content&sh=63c7fcd95afc#3d8c69525afc
2) https://www.forbes.com/sites/blakemorgan/2019/09/24/50-stats-that-prove-the-value-of-customer-experience/?utm_source=xp&utm_medium=blog&utm_campaign=content#4949bb054ef2
3) https://www.retailcustomerexperience.com/blogs/why-personalization-is-key-for-retail-customer-experiences/?utm_source=xp&utm_medium=blog&utm_campaign=content