Top 3 challenges for digital transformation and how low-code can solve them
With digital transformation having such clear benefits it is hard to imagine why every company is not making digital transformation a priority. Unfortunately, however, there are challenges than can make the process seem impossible
Businesses everywhere are quickly realising the need for digital transformation. In an ever-changing world, companies must be seen to be adapting or they get left behind. The benefits of digital transformation are clear, with brands that do it best bringing in 5.7 times more revenue than their competitors who have not made this their focus.
The simplest way to define digital transformation is the process of using digital technologies to modify existing, or creating new, business processes to increase operational efficiency, enhance customer and employee experiences, and drive growth.
With digital transformation having such clear benefits it is hard to imagine why every company is not making digital transformation a priority. Unfortunately, however, there are challenges that can make the process seem impossible. Companies often cite three main reasons for this: employee pushback, lack of expertise and limited budget.
We believe Low-Code application development platforms can alleviate these challenges, clearing the way for your organisation to reap the benefits of digital transformation. In this article we will explore each challenge and how low-code can solve them.
Free Guide

Download our free guide to learn the top 5 digital transformation trends for 2021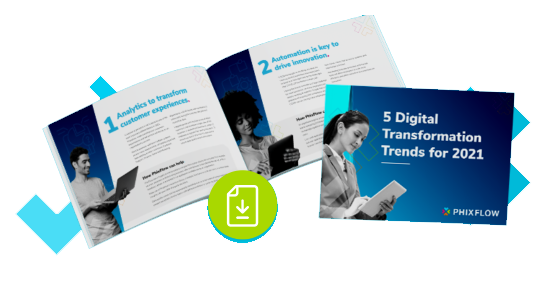 Challenges
Challenge #1 – Employee Pushback
Employees can be hesitant to embrace digital transformation. For example, Bob in accounting thinks that moving away from spreadsheets seems impossible. He's been using them for 30 years and doesn't see why he should change now.
The idea of huge amounts of change and disruption to your way of working is understandably distressing. To alleviate that doubt it is important to be consistent and transparent with employees at every level of your organisation, about what your aims are and what the impact on them will be.
Empowering your staff to take part in the process of digital transformation can be a powerful tool, not just in solving employee pushback, but also making sure your transformation is successful. With Low-Code platforms, staff at each level can be involved in the development process. By becoming an integral part of the process, staff are suddenly invested in its success whilst being comforted by the knowledge that their concerns are being accounted for.
Challenge #2 – Lack of Expertise
IT departments are often overstretched with day to day work. Then there's the problem of who will head up the project? How will you ensure they have in depth knowledge of all the processes within each department?
The digital transformation journey doesn't belong to one individual or department, and success is unlikely when it is designed that way. Low-code enables "citizen developers", people without coding knowledge, to be involved in the design process by utilising drag and drop functionality. No one knows your processes better than your staff. Enabling them to be involved can not only take the burden off IT, but can ensure that newly designed processes consider the intricacies only known by those within each department.
It takes a combination of talent and technology to get you through your digital transformation. By training your workforce in low-code application development, you are building the skills needed for innovation. By making early investments in your people, you can stay ahead of the game.
However, there may well be times when you need a very complex application with extremely tight timescales before your staff are fully confident with your new platform. At PhixFlow you have the option to utilise our experts to build your application for you. This can be done with your inhouse team, so that they can learn the process and be prepared for the next big project. Having that flexibility is key to ensuring your digital transformation is a success.
Challenge #3 – Limited Budget
Wouldn't it be nice to have an endless pool of financial resources? Unfortunately, that is not the reality, especially in today's environment.
When considering a digital transformation project, often never-ending bills for automation tools, CRMs, analytics tools, data storage solutions, billing solutions and more, come to mind. By investing in a low-code platform, such as PhixFlow, you have all these needs met with just one license fee. It is important to note that not all low-code platforms will have the functionality to cover these bases, which is why it is important to check with the low-code provider.
Another costly aspect of digital transformation is the fact that the landscape is constantly changing. Whatever workflows the digital transformation initially implements will quickly become outdated. When installing a new application this year, the market requirement could well change by the next year. Having to find and install a brand-new solution to keep up with ever changing demands is costly and time consuming. With low-code you can alter your existing systems constantly, or even build entirely new applications within weeks, all under the same license fee. This gives your company the ability to respond rapidly to market changes as and when needed.
Furthermore, by being able to utilise your existing talent within the company and bypassing the need for experienced coding developers, you can relinquish the cost of having to bring in new expertise or outsource developing to yet another company.
Summary
Digital transformation is not just a passing trend, but key to survival in today's market. With increasing demands on businesses to perform, ensuring your company's processes are up to the task is essential.
With a low-code platform, such as PhixFlow, you can address the common challenges companies face when undertaking such a project before you even begin. By involving and utilising staff from each level you ensure processes are designed according to their specific requirements, keeping them engaged with the process. Having the flexibility to bring in expertise to help with building the most complex applications means you can truly get the most out of your platform and invest in your staff by ensuring they learn the skills required to take your company forward. Furthermore, you can keep costs down by keeping all projects under one license fee and having the capability to update applications as and when needed.
Find out more about how PhixFlow can help you with your company's digital transformation today.
Sources:
https://www.retailcustomerexperience.com/blogs/why-personalization-is-key-for-retail-customer-experiences/?utm_source=xp&utm_medium=blog&utm_campaign=content