The top 3 ways Low-Code has changed application development
Digital transformation has been at the top of many businesses' priorities, but the speed at which businesses have been able to digitise their manual processes has been relatively slow. Enter Low-Code!
Digital transformation has been at the top of many businesses' priorities, but the speed at which businesses have been able to digitise their manual processes has been relatively slow. The Covid-19 pandemic highlighted the need for businesses to be able to respond quickly to changing situations with the necessary digital solutions.
For many businesses this was a steep learning curve and one that was often a marker of not just success, but survival. With the reopening of lockdowns once again, digital transformation is something businesses have identified as essential: accelerating the use of new technologies, solutions and applications is no longer optional.
With digital transformation having been historically a slow process, what has allowed businesses to rapidly decrease development times? In this article we will look at how Low-Code has changed the approach businesses take to digital transformation.
How has Low-Code changed the way new applications are deployed?
Time
There's just not enough time in the day. It's a common problem in life, never mind business. When it comes to new software, often IT departments simply lack the time and resources to assess or develop software.
However, what is easy to overlook is the amount of time that can be saved by replacing manual processes and adopting new technologies. Within digital transformation strategies, automation is a must, as it allows businesses to save time, increase efficiency and, ultimately, provide a better service.
If automation can save time, how can you speed up the development times of applications that automate these manual processes? Low-Code development platforms reduces complexity through a visual approach to building applications. When compared with more traditional hand-coding approaches, this greatly speeds up the development process. Many of the functions and data connectors required are already coded, and can be used in multiple projects, without the need to re-write complex code.
Furthermore, apps can easily be updated as and when new functionality is required. There is no need to bring in an entirely new application when requirements are shifted. Instead, you can quickly update your apps within just a few days, or even hours.
Free Guide

Download our free guide to learn the top 5 digital transformation trends for 2021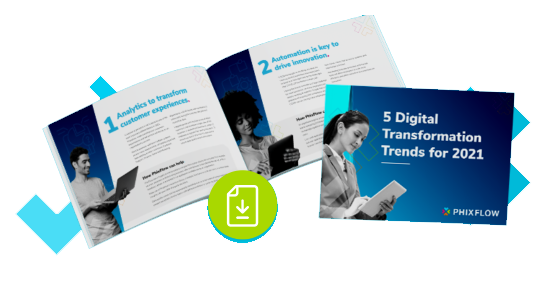 Resources
Even large organisations sometimes feel that they lack the internal skills to develop and manage new digital transformation initiatives. Gartner has predicted that the demand for app development will grow at least five times faster than IT capacity can deliver.
Traditional coding approaches to development require a deep understanding of various programming languages, detailed planning and large amounts of testing. To achieve this an organisation would need large development teams, or a large budget to outsource to specialist companies. Low-Code allows 'citizen developers', or people without coding knowledge, to create workflows and make changes to applications without specialist coding knowledge- all of which means that more can be done with less.
Money
Money makes the world go round and, unfortunately, is also needed to bring new applications into an organisation. In fact, the most common objection to developing and implementing new applications is the cost.
Traditionally, designing and implementing new software solutions is expensive, especially when bespoke to your organisations needs. Such software development methods are resource intensive and require complex coding skills that most businesses don't have internally. This leads to the development of applications being outsourced, which not only increases costs but often leads to extending deadlines.
One alternative would be to buy-off-the-shelf software, thinking that it could help save time and money. However, these can be just as expensive and may not fully meet the requirements, which leads to additional work to change business processes to fit around the new software.
All is not lost though. Low-Code can solve your budget problems without needing to compromise on functionality. To be sure that the new app is right for your business it will inevitably need to have some degree of customisation. Low-Code allows you to create bespoke applications, at a fraction of the cost. Platforms, such as PhixFlow, have been designed to allow you to not only create these applications, but also make iterative changes as your business evolves, reducing the need for large teams of developers; thus, reducing overheads.
Summary
Digital transformation requires businesses to adapt at speed, leaving traditional ways of developing applications outdated. As organisations continue to invest in their digital transformation strategies, what has become clear is the role that Low-Code development can have in speeding up the deployment of new applications at a fraction of the cost of more traditional off-the-shelf, or bespoke hand-coded software.
Furthermore, it allows more of the organisation to be involved in the creation of new solutions that fix, or improve, manual processes, reducing the burden on overstretched IT departments. Having business users, or citizen developers, involved in creating their own applications allows for processes to be created in ways that are most efficient for each department.
Many businesses have already started their journey into Low-Code with amazing results, achieving a return on investment faster than ever before.
Get in touch and request a demo to find out how you can begin your journey.