What is Low-Code?
In this article, we will examine what is meant by Low-Code and why Forrester predict that up to 75% of development companies will adopt Low-Code to deliver applications faster.
Creating software applications is time consuming and complex, requiring teams of developers with years of coding experience. Ever-changing technology requires development teams to keep up with emerging trends and ensure that their applications are secure. This makes the prospect of commissioning new business software a daunting one to say the least!
There is another option: Low-Code. Leading research company Forrester predicts that Low-Code application development will become mainstream in 2021 with up to 75% of development companies adopting Low-Code platforms to deliver applications faster.
In this article, we will examine what is meant by Low-Code and how it changes the way that business applications are developed.
What is Low-Code?
Low-Code application development takes a new approach to developing software, enabling more business users to create software. These development platforms help companies utilise non-programmers, otherwise known as citizen developers, to build applications by utilising drag and drop functionality to connect data sources, analyse and enrich data, build forms and screens, and automate business processes.
It's not just citizen developers that will benefit from the use of Low-Code. Experienced developers will also gain too. Initial application designs and proof of concepts can be created quickly. Then, when the application needs to be extended, code can be added to provide additional calculations and business logic.
What are the main benefits of Low-Code application development?
Speed
If the recent COVID-19 pandemic has taught us anything it is that things can change quickly, leaving many organisations with no choice but to change working practices overnight. These changes meant that new processes, systems and supporting applications were required at speed, placing a huge burden on IT departments and developers to meet ambitious targets.
John Ryman, Principal Analyst at Forrester wrote "Low-Code development platforms have the potential to make software development as much as 10 times faster than traditional methods."
Users can create new applications, or make changes to existing applications, by utilising drag and drop functionality to connect data streams, create screens and dashboards, develop workflows or automate processes- all without a single line of code. No-code platforms offer this functionality too, but will lack the ability to extend upon existing features that are built in. With Low-Code, by contrast, developers can add their own code to extend upon the existing functionality to create mission-critical systems that can integrate with multiple backends and data sources.
Agility
As applications can be developed much faster, using drag and drop functionality and with more business users involved in their creation, businesses can be more agile than ever. Iterative changes can be made to applications, by multiple users, as and when circumstances or market conditions change. There's no more waiting for experienced developers to have the time available to create custom code, simply make your changes and re-deploy the application.
Free Guide

Download our free guide to learn the top 5 digital transformation trends for 2021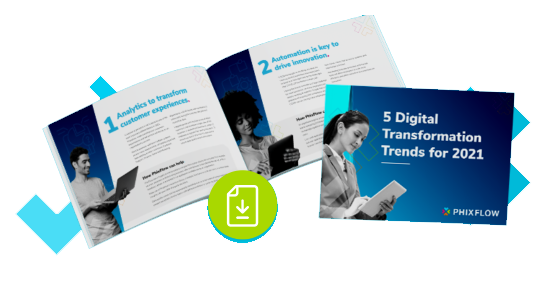 Reduce the development backlog
There is no doubt that digital transformation and the increasing use of IT within all businesses is a benefit to efficiency, productivity, and profitability; however, this is placing more and more pressure on IT departments. This ever-increasing pressure affects their ability to deliver changes or updates to systems and applications to support changing market conditions.
Low-Code development can reduce the strain placed on over-stretched IT departments by allowing business users, with no coding experience, to make changes to existing applications without having to get IT involved.
Encourages collaboration
Many businesses often talk about departmental silos. When there's no engagement between departments confusion and duplication of tasks will take place, leading to a drop in productivity and profitability.
Utilising Low-Code platforms to automate business processes that span across multiple departments and business disciplines will allow greater visibility and clarity, as all of the data needed for all departments involved can be found in one platform. Furthermore, as citizen developers can be used in the creation of such applications, collaboration between departments is increased as teams work together to develop creative solutions and applications that benefit everyone.
Data-driven decision making
Having access to all the data you need to make important decisions for your business is essential to ensure future success. No two systems are the same and all will use different methods to allow data to be exported for analysis.
Using Low-Code platforms makes it easy to connect to multiple data sources, no matter what connection method is required, allowing you to run detailed analysis on your customers, financial, or production data. With all your data available for analysis and reporting in one easy to use platform you will be able to make the decisions that matter, when it matters most.
Summary
These are just 5 benefits of Low-Code software development, however there are many more. If you would like to find out more on how Low-Code software development can benefit your business, please request a demonstration of PhixFlow.