What is business process automation, and why your business needs it?
In this article we will explore how Low-Code applications can be created that enhance RPA processes across an entire organisation, dealing with more complex business processes, and thus becoming Business Process Automation.
Automation is not new, in fact it has been around for centuries, since punch card technology was used by Charles Babbage to program machines to perform actions. Digital technology has moved at an incredible pace, resulting in more and more tasks becoming automated.
Over the past few years, we have seen the rise of the robot, but not the type that you have seen in sci-fi movies. These are software robots that are programmed to take over the mundane tasks that a human would otherwise do, and transfer data between various software applications. This is often referred to as Robotic Process Automation, or RPA.
In this article we will explore how Low-Code applications can be created that enhance RPA processes across an entire organisation, dealing with more complex business processes, and thus becoming Business Process Automation.
What is business process automation?
Gartner defines Business Process Automation Definition (BPA) as "the automation of complex business processes and functions beyond conventional data manipulation and record-keeping activities". The key to BPA is that it deals with complex processes, rather than just individual tasks that a human can undertake, which is often addressed with Robotic Process Automation (RPA) solutions.
Business process automation examples
To gain a better understanding of business process automation, let's take a look at some examples.
Employee Onboarding
Hiring a new employee might seem an easy task, but once you have found the correct candidate, there are a mountain of tasks that must be completed by various members across multiple departments. For example, a payroll department will need to obtain the bank payment details, whilst the HR department collects personal information and eligibility to work documents. The department head may also need to set up induction and training sessions.
By combining these tasks into a business automation workflow, each task can be automated and tracked, maintaining visibility for all relevant parties and taking away some of the time-consuming tasks.
Customer Support
When providing support for software, you may have several tickets raised for the same issue. A large volume of tickets means it is unlikely that your business will have the resources available to process and reply to every one of these. Instead, your automation solution could analyse each ticket and distribute to the relevant personnel when it requires further attention or send out automated replies to common problems where a solution has already been identified.
Free Guide

Download our free guide to learn the top 5 digital transformation trends for 2021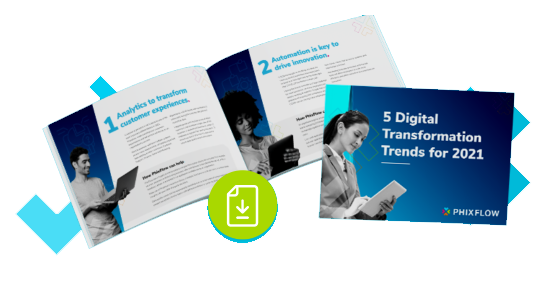 Project Management
Projects will often become derailed through poor communication. It only takes one person to be absent and confusion reigns. With so many businesses relying on spreadsheets and emails to keep projects on track there are a plethora of mistakes that can be made, stalling projects which can lead to financial penalties.
Creating a project management application, using Low-Code applications such as PhixFlow, will enable the automation of task management, providing clear visibility of task responsibility and progress. Combine this with alerts from an employee absence system and you'll always ensure that projects maintain their focus and progress.
Why should you consider business process automation?
Let's explore some of the reasons you should automate your business processes.
Streamline processes
By replacing many of your manual tasks with automation, you'll be able to eliminate time-consuming activities and focus on the tasks that add value.
Increase Customer Experience
Over the past few years Customer Experience (CX) has become a vital component of business strategy, with companies prioritising their customers to ensure repeat custom and customer advocacy. Automation allows businesses to provide greater clarity and improved service to customers, ensuring that customer service levels are met or exceeded.
Digital transformation
Another key focus for many businesses is the desire to meet digital transformation goals. Adoption of Low-Code development enables businesses to start, or accelerate, the conversion of manual processes to digital and create a culture that supports their transformation needs.
Compliance
Whether a business is looking to gain accreditations or needs extra information to support the resolution of a customer care issue, a detailed audit trail to demonstrate compliance may be required. Process automation tools allow the recording of detailed information at every step during a business process; thus, ensuring that all information required is to hand when requested.
The benefits of business process automation
There are many benefits of adopting Business Process Automation that will be seen in a short-time frame. These benefits include:
An organisation's productivity will be greatly increased. This is largely due to employees having more time to work on the activities that matter most.
With process automation you will be able to become more transparent, supporting compliance goals, which will improve accountability and ensure greater visibility.
By monitoring processes and putting alerts in place you will gain increased business insight from activities.
Performance monitoring becomes much easier through automation, enabling businesses to identify errors and recurring problems, allowing for processes to be changed which will lead to a reduction in costs.
Low-Code BPA systems will also improve access to data and giving employees the systems they need, where and when they need them.
All of these benefits combined will offer greater efficiency for your business and continued process improvement will ensure that efficiency levels continue to improve over time.
Have you tried Low-Code application development?
If you're ready to drive efficiency in your organisation, PhixFlow can help. Our trusted Low-Code application platform allows you to do more with less, ensuring that your process automation applications are rapidly developed and deployed so you can maximise the benefits. Request a demonstration today.