Why automation is vital for the future of business
In this article we will look at what process automation means, what types of automation solutions are available, the benefits of adopting automation and why it is so important for the future of all businesses.
The automation of business processes is no longer just a luxury for larger businesses, rather it is rapidly becoming a necessary essential for businesses of all sizes to ensure continued success.
In this article we will look at what process automation means, what types of automation solutions are available, the benefits of adopting automation and why it is so important for the future of all businesses.
What is automation?
If you grab your dictionary you will find automation defined as a technique, method, or system of operating or controlling a process by highly automatic means, as by electronic devices, reducing human intervention to a minimum. This definition is perhaps slightly confusing and wordy, so what do we mean when talking about automation? A simpler definition, and how we see it, would be the use of software applications to automate business processes, so employees don't have to.
By replacing these, often labour intensive, processes with automation software brings many advantages, such as reduced costs, increased efficiency and time savings – we'll dive into the benefits later on.
There are many different automation solutions available so let's take a look at the different types.
Free Guide

Download our free guide to learn the top 5 digital transformation trends for 2021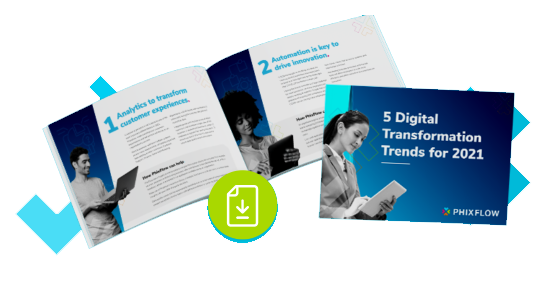 Types of process automation
What is Business Process Automation?
Business Process Automation, often referred to as BPA, is the use of applications to execute recurring tasks, replacing manual effort. BPA is more focussed on the whole business automating a workflow throughout the entire organisation rather than individual tasks.
What is Robotic Process Automation?
RPA (Robotic Process Automation) is the use of software 'robots' to automate human activities that are manual, rule-based and repetitive.
What is Intelligent Process Automation?
Intelligent Process Automation is a suite of business process tools that mimics the activities of humans and, over time, learns to improve on these.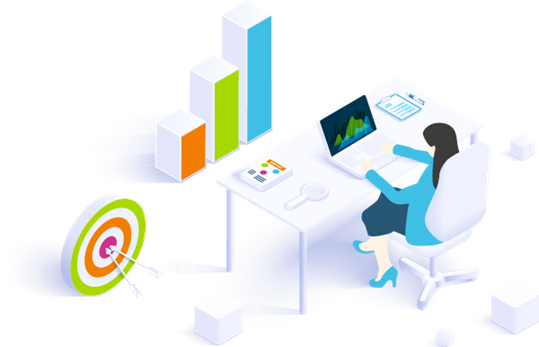 The benefits of automation
No matter which type of automation solution you choose for your business there are many common benefits of automation.
Improved operational efficiency
Automation reduces time, effort and cost, whilst reducing manual errors, giving your business more time to focus on your primary objectives.
Time saving
Repetitive tasks can be completed faster.
Improved quality and consistency
Automating processes ensures high quality results as each task is performed identically, without human error.
Increased employee satisfaction
Manual tasks are boring and laborious. Automation allows your employees to work on more engaging activities, and thus increases satisfaction.
Increased customer satisfaction
Happier employees, faster processing and time savings enable your teams to concentrate on providing better customer service, which all helps boosts customer satisfaction.
The role of business automation in digital transformation
Digital Transformation is a phrase that businesses have been talking about for a long-time. Many businesses recognise the benefits that digitisation brings, but have problems keeping momentum in deploying solutions. The main problem has always been the cost involved in developing software, which is often bespoke to each organisation.
The Covid-19 pandemic of 2020 has led to more and more businesses committing to speeding up their digital transformation plans. This is largely driven from the need for efficiency to maintain growth and, in some instances, to survive.
Adopting automation within these organisations is vital to driving down costs, increasing efficiency, and improves both customer and employee satisfaction. Automating manual processes, which are often paper based, helps business leaders ensure that their digital transformation targets are being met, but how do they now get around the barriers such as cost and speed of deployment?
Thankfully, the rise of Low-Code Application Development platforms, such as PhixFlow, enable the rapid development of bespoke automated solutions at a fraction of the cost.
Summary
Automation, whichever flavour you choose, offers so many benefits and with economies struggling, following the recent Covid-19 pandemic, it really is a case of 'survival of the fittest'. Companies that come out on top will be those that have adapted to change becoming more agile, cost-efficient, and offer better customer and employee satisfaction. All of which can be addressed by the adoption of automation systems developed using Low-Code platforms.
Don't let your business fall behind and ensure future business success with PhixFlow.
Book a demo today and discover how quickly your business can be enjoying the benefits of automation.