Why data is essential for your business's post covid recovery
As the pandemic progresses business leaders have come to realise that data has become more essential than ever before and is necessary to determine and progress upon the path to recovery.
The coronavirus pandemic is the first global crisis in which we were able to rely on technology to get us through. Practically overnight, after the first lockdown, our lives went entirely online. Yoga teachers ditched the classroom for zoom, window shopping became tab browsing and a fancy meal at a restaurant became a takeaway in front of the TV. Businesses had to adapt to a complete shift in consumer behaviour, necessitated by the crisis.
It wasn't just businesses who needed to make swift decisions. Governments across the world had to make life and death decisions about a situation they had likely not faced in their lifetime. Data science wasn't just a convenient tool for businesses, it was used to make decisions such as when to lockdown.
When acting in times of crisis it's important to consider our options and make decisions quickly, based on the information we have available to us. Throughout the pandemic, governments and healthcare organisations relied heavily on their systems to make informed decisions. For example, it was through data models released by Imperial College London that the decision to lockdown in March 2020 was taken. 2 Across the world data scientists created models looking at the impact of things such as social distancing, mask wearing and curfews, analysing huge data sets of the disease's behaviour worldwide.
It wasn't just governments and health organisations utilising data to cope with the Covid crisis. In the private sector, data became increasingly important. Many businesses struggled to cope, with consumer behaviour changing completely, almost overnight. However, some saw profits soar. For example, Amazon saw a 37% increase in earnings in 2020, while most companies reported losses. It wasn't just luck either. Amazon is known for using all the data it has on its customers to boost their experience and, thus, increase revenue.
As the pandemic progresses business leaders have come to realise that data has become more essential than ever before and is necessary to determine and progress upon the path to recovery. Companies such as Amazon have been utilising their data for years- and it shows. While most companies don't have vast amounts of data on their customers, on the same scale as Amazon, all companies have data that they can and should be using.
This data can be used in many ways to help aid recovery. For instance, analysing the buying patterns of customers since the start of the pandemic. Looking at the data will help you see where customers preferences lie in purchase type. You may find that you have significantly increased purchases from your online platform, so may increase spending in digital marketing.
Free Guide

Download our free guide to learn the top 5 digital transformation trends for 2021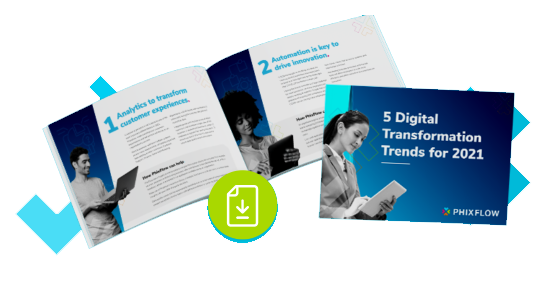 The data will not only help you to recover by analysing customer behaviour to know where to increase spending, but to discover where problems lie. It could be that you find that customers are getting through to checkout, but then a vast majority opt not to continue with the purchase. Once you know this you can investigate why. Is it because you require all customers to sign up and the process is too long? Is it because of technical issues with the checkout page? It is only by analysing the data that you can recognise that there is a problem, so that you can then find out what that problem is and work out how to rectify it.
Furthermore, data will help you prepare for future disruptions, to have a plan in place for anything that 2021 may throw at your business. In times of uncertainty, you may find that consumers require more customer support, so you can plan ahead. Creating emergency plans for any future crisis will ensure that your business is future proof. Next time you will have those extra agents online, ready to support your customers and, most importantly, keep them.
In order to utilise your data there are some key things you will need to ensure:
1) Your data quality
When making decisions based on data, it's extremely important that the data is correct. Gartner research has found that poor data quality is responsible for an average of $15 million per year1. With more and more data being collected and analysed, the room for error is growing.
It is important to be proactive when it comes to data quality, especially now when it is needed more than ever. Data quality issues accumulate; not manage them, or managing them through manual intervention, is costly and libel to error. You don't want to wait for costly issues to arise before realising there is a problem. Nor can you afford to fall behind other companies in utilising the data you have available.
Resolving data quality issues can be a time consuming and costly task, especially across multiple systems. However, Low-Code platforms, like PhixFlow, can be used to automatically correct data quality issues from multiple source systems. Furthermore, you can reduce, or eliminate, room for such issues arising in the first place. Low-Code application development platforms can create applications to replace solutions such as spreadsheets, where human errors are inevitable. They can also be used to automate processes where human errors occur, ensuring that key fields are filled in and checked before records are created.
2) Data analytics capability
To get the most out of your data, you need to be confident in your analytics tools. Being able to process large amounts of data is paramount. Not only that, but you may need to perform multiple functions on each data point. This requires large processing power, and a light touch on source systems to ensure they are not impacted.
Furthermore, you need to be able to present that data in a way that can be used to make decisions. Using a Low-code platform, you can build out dashboards to your own specific requirements, ensuring you can view the results quickly and efficiently. You may also build out automatic reports to be sent to relevant decision makers on a daily/weekly/monthly basis. When using data to make decisions that ensure your recovery, it's important to have access to that data in a format that is conducive to your way of working.
3) Connectivity of systems
When utilising data on your customers, it's key to have the full picture. Data won't just be found on one system and data from one system isn't enough to build up a proper picture of your business and/or customer. Having data from the billing systems is very helpful, but it is only alongside data from your ecommerce platform and orders system that you begin to get an idea of the customer journey.
Using a platform like PhixFlow enables you to connect the data from all these systems. Each data point is extracted then clever functionality allows the system to recognise a specific customer in each system, so that you can then bring all that data together to build up the full picture. Having a connected and full view of how your company is performing is key to ensuring you make decisions that enable its swift recovery from the current crisis and protect it from anything the future has to throw at it.
To find out more about how PhixFlow can help you utilise your data, get in touch for a free demo.